Barbie launches doll with Down's syndrome
Barbie has launched its first doll with Down's syndrome, in a bid to make the world-famous toy more inclusive.
Part of its Fashionistas range, which includes dolls who use wheelchairs, prosthetic limbs, and hearing aids, this doll is the first to represent someone with a learning disability.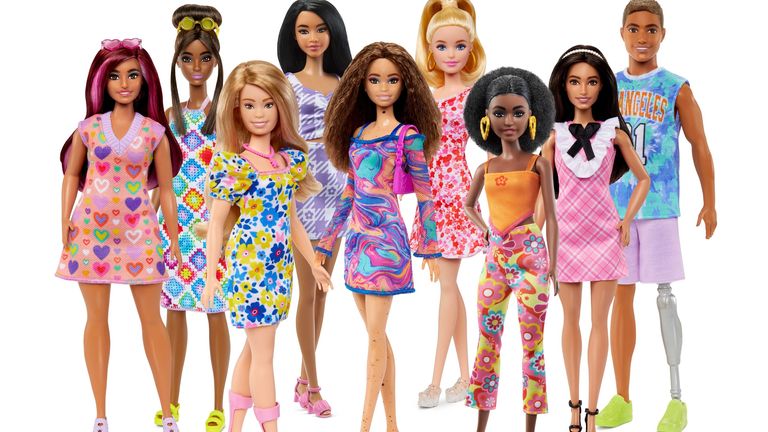 | The Barbie Fashionistas range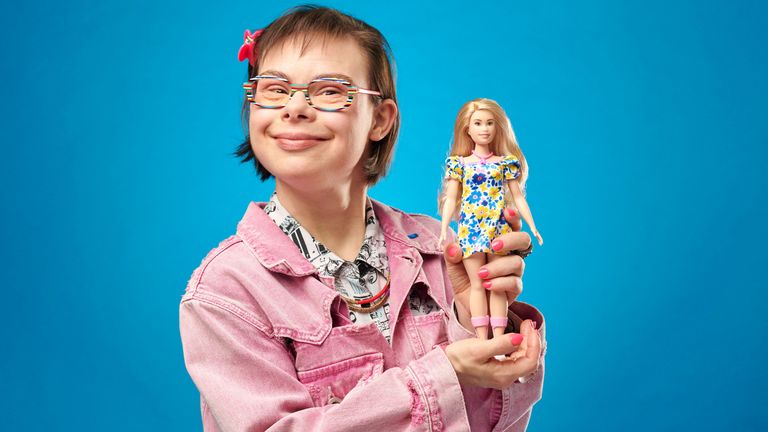 | French city councillor and author Eleonore Laloux holds the new Barbie doll with Down's syndrome
Down's syndrome is when you are born with an extra chromosome, leading to some level of learning disability, distinctive facial characteristics and an increased risk of heart and digestive issues.
British model Ellie Goldstein, 21, who helped launch the new doll, said she felt "happy" and "overwhelmed" to see a doll with Down's syndrome, adding "people need to see more people like me out there in the world and not be hidden away".
Working with the USA's National Down Syndrome Society (NDSS) and medical professionals, the doll has been sculpted with a shorter frame and longer torso to more accurately represent a woman with Down's syndrome.
Her facial features have a rounder shape, smaller ears, and a flatter nose, with almond-shaped eyes. Additionally, her palms feature a single line, a characteristic often associated with those with Down's syndrome.
The doll's pink pendant necklace has three arrows to represent the three copies of the 21st chromosome which people with Down's syndrome have, and symbolise "the lucky few," which is said to represent people who have someone with Down's syndrome in their lives.
The doll is also wearing ankle supports, which are more commonly used by children with Down's syndrome in the US.
NDSS president and CEO Kandi Pickard said: "This Barbie serves as a reminder that we should never underestimate the power of representation. It is a huge step forward for inclusion and a moment that we are celebrating."
Carol Boys, chief executive of the UK Down's Syndrome Association, said: "We often hear from families who feel their children are not represented enough in the mainstream media. We therefore welcome the fact that children in our community will be able to play with a doll that represents them and their lives."
Other Barbie Fashionistas in the range, which was launched last year, include dolls with vitiligo (condition where pale white patches develop on the skin), a doll without hair, a Barbie wearing braces and a Ken with a prosthetic leg.
Mattel's line for Barbie's little sister, Chelsea, launched a doll with spinal disorder scoliosis earlier this year, wearing a removable back brace.
Executive vice president and global head of Barbie and Dolls at Mattel, Lisa McKnight, said the brand's goal was "to enable all children to see themselves in Barbie" and "encourage children to play with dolls who do not look like themselves… [and so] teach understanding and build a greater sense of empathy, leading to a more accepting world".
Launched in 1959 by American toy company Mattel, Barbie - whose full name is Barbara Millicent Roberts - has since become the most famous doll in the world.
First available as either a blonde or brunette, the shapely blonde bombshell Barbie has since become synonymous with the brand, which has previously been criticised for promoting an unrealistic body image and overly sexualised appearance.
A live action Barbie film, starring Margot Robbie and Ryan Gosling as Barbie and Ken, and written by Greta Gerwig is due out in July.