Dwayne Johnson announces surprise return to Fast & Furious after Vin Diesel feud
Dwayne Johnson has announced his return to the Fast & Furious franchise following long-standing reports of a feud with lead star Vin Diesel.
This story contains mild spoilers for the film Fast X.
The wrestler-turned-actor made his series debut as US secret agent Luke Hobbs in 2011's Fast Five, and reprised the role for three sequels and the 2019 spin-off Hobbs & Shaw.
But he was absent from the ninth mainline entry, 2021's F9, amid rumours of bad blood between him and Diesel.
Months after that film's release, he said there was "no chance" he would return to the series, which continues this summer with Fast X and has at least two more instalments in the works.
Johnson, 51, has now revealed that he will be back for more Fast films after all, with a post-credits scene in the latest release having teased a comeback.
"So I am 100% confirming to you guys around the world that yes, it is true. Hobbs is back," he said on Twitter.
"Hobbs is back in the Fast & Furious franchise."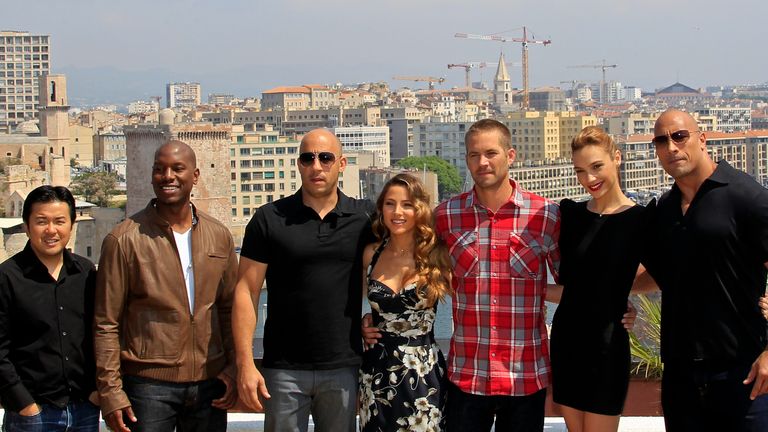 | Vin Diesel and Dwayne Johnson with their Fast Five co-stars in 2011
The Moana and Black Adam star said the reaction from fans to Fast X has been "gratifying and satisfying", and also addressed the long-standing reports about his relationship with Diesel.
He said while the pair had "our differences", they were "brothers" who had plans "much bigger than ourselves".
"Last summer Vin and I put all the past behind us," he added.
"We'll lead with brotherhood and resolve - and always take care of the franchise, characters & FANS that we love."
Diesel has played lead character Dominic Toretto since the original film in 2001.
Since then, the Fast franchise has generated a total worldwide box office gross of more than $7bn (£5.6bn).
The newest entry has so far taken more than half a billion dollars.
Johnson's Fast comeback comes after plans for a sequel to Black Adam, his DC superhero film that flopped at the box office last year, were reportedly put on hold at Warner Bros.