Teenage girl jailed for life for killing boyfriend, passenger in 100mph car crash
A teenage girl nicknamed "hell on wheels" has been jailed for life for murdering her boyfriend and another passenger by driving a car into a wall at 100mph.
Mackenzie Shirilla, 19, was handed two concurrent 15 years to life sentences in a court in Ohio on Monday over the deaths of her boyfriend Dominic Russo, 20, and another passenger Davion Flanagan, 19, in July last year.
Shirilla, who was 17 at the time, drove her Toyota Camry without braking into a brick building.
The two passengers were pronounced dead at the scene. All three had been smoking marijuana and police also recovered magic mushrooms, the New York Post said.
She showed 'no mercy'
Christine Russo, Mr Russo's mother, said: "Dom and Davion were robbed of their futures, their hopes and their dreams.
"Mackenzie showed no mercy on Dominic, nor did she on Davion."
She told Shirilla to "be thankful you're still alive and have a future, whatever that may be".
Shirilla, who did not give evidence, read out a statement in court before her sentence was announced.
"The families of Dominic and Davion, I'm so deeply sorry," she said.
"I hope one day you can see I would never let this happen or do it on purpose. I wish I could remember what happened."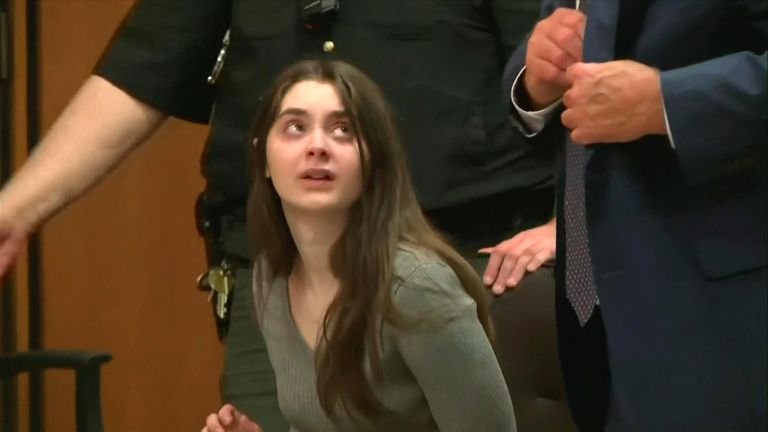 | Pic: WKYC/NBC
The judge said in her verdict that Shirilla was "literal hell on wheels," saying she intentionally drove at an hour when not many witnesses would be around, on a path she didn't routinely use but had visited days before.
Prosecutors argued in the trial that Shirilla had become turbulent and threatening toward her boyfriend and that she crashed to end their relationship.
Davyne Flanagan, Mr Flanagan's sister, had asked the judge to give "the longest possible sentence".
"I've known her for about three years, and she's always taking the easy way out," she added.
The judge told the court: "I understand that the pain in this room wants me to impose the harshest sentence, but I don't believe that would be the appropriate sentence, because I do believe that Mackenzie won't be out in 15 years."
Her sentence is similar to life imprisonment in the UK, meaning she will be eligible for parole in 15 years.
Before the sentencing, the prosecution played TikTok videos showing Shirilla at a concert and celebrating Halloween after the crash.
However, her mother told the judge that the outings were the only times she did something for herself, saying her daughter had been crying in her room next to a shrine she had made of Mr Russo for months.
Shirilla was convicted last week on 12 counts, including murder.