Edward Enninful stepping down as British Vogue editor to take on new role
Edward Enninful is stepping down as editor of British Vogue after six years.
Enninful, the first man and black person to do the job, revealed the news in an internal memo on Friday.
He told staff he was excited to be taking the new role of "editorial advisor of British Vogue and global creative and cultural advisor of Vogue".
Enninful said the job - which he starts next year - would give him "freedom to take on broader creative projects".
Vogue covers are still unique to each country but inside content, shoots and interviews have been used in multiple magazines in recent years.
The 51-year-old will report to Vogue US editor Anna Wintour, who is also chief content officer for Conde Nast and who Enninful said was part of the decision for him to "play a broader role in enhancing Vogue globally".
Enninful already oversees Vogue France, Italy, Germany and Spain.
Recruitment for his replacement will begin immediately but his successor will no longer be editor in chief, carrying the job title of 'head of editorial content' instead.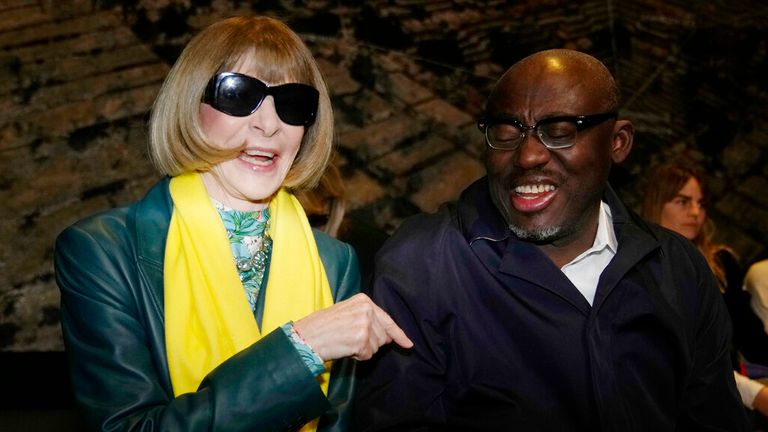 | Wintour and Enninful in Milan in February. Pic: AP
Enninful, who was born in Ghana before emigrating to London, has been praised for his promotion of diversity.
Under his leadership, cover stars have included pop star Rihanna, environmental campaigner Greta Thunberg and England footballer Marcus Rashford.
Enninful chose the Duchess of Sussex as guest editor in September 2019, with her Forces for Change edition celebrating "trailblazing female changemakers".
This month UK Vogue was published in braille for the first time in its 107-year history.
Before Enninful's appointment in 2017, his predecessor Alexandra Shulman was in post for 25 years.